THIS CAN'T BE HAPPENING      By LOUISE WRIGHT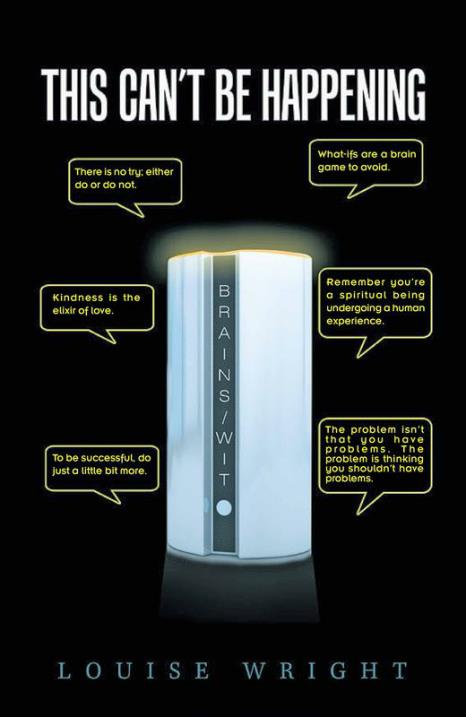 "What would you think if your cell phone started texting you advice?"

Bizarre things start occurring in twenty-three-year-old Kimberly's life after receiving a cloud device that becomes her confidant and adviser. Brains/wit, with activated words Mr. Smart, helps her with boyfriend problems, work-related difficulties, Mom worries, and even everyday household issues. But is this entity going too far when it begins sending text messages and emails on her behalf?

"Kimberly, you look great. Even happy. What's going on?"

"Well, Clint dropped by to tell me he's now dating class and money. And then he gives me a wicked widget as a gift that's doing strange things. I'm developing a school-girl crush on my boss's son who's already taken. And I'm doing a lousy job at work because this sales woman won't turn in paperwork I need."

"Okay," Barbara responds, "So why do you appear so cheerful?"

"I'm not sure. Maybe because the impish gadget said, 'To be happy -- let go of thoughts that make you sad.'"

"Explain the wicked gadget, please," Barbara requests.

"It's one of those cloud services that acts like an oral Google or Bing. You ask it questions, and it gives supposedly correct answers."

Great beach book, soft science fiction, love story, chick lit, or just a fun read.

THIS CAN'T BE HAPPENING      By LOUISE WRIGHT

The information and material on this website is provided for informational purposes only. Nothing contained on this website constitutes advice or an opinion on any subject matter or on any specific set of facts or circumstances. The Directories are password protected for the privacy of the Members.

Transmissions made over the Internet may not always be confidential and any transmissions you make to members over this website are made at your own risk.

The Members make no guarantees or representations about the timeliness or accuracy of the information contained on this website for any purpose. In addition the Members make no guarantee of the accuracy of any information available through any of the links you may find on this website; they are provided only as a convenience to the viewer.

Inquiries, questions & comments related to content or information on this website should be directed to the webmaster, Ray Wright at ray@raywrights.net or by phone to 804.360.4692.