Tomorrow, I'll Claim The Good Life

                                 By Louise Wright

A thought-provoking read about the consequences of making bad choices.

​        

       "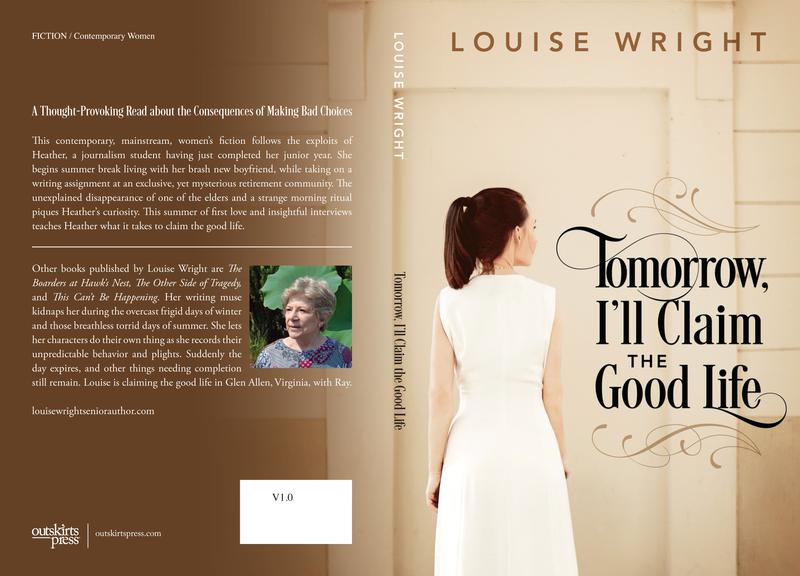 This contemporary, mainstream women's fiction follows the exploits of Heather, a journalism student having just completed her junior year. She begins summer break living with her brash new boyfriend, while taking on a writing assignment at an exclusive yet mysterious retirement community. The unexplained disappearance of one of the elders and a strange morning ritual piques Heather's curiosity. This summer of first love and insightful interviews teaches Heather what it takes to claim the good life.

   "And now to the reason I decided to do this project," Cecelia began. "We all have gone through an experience together that we're having trouble dealing with because of such painful recall and overwhelming feelings. And I wanted to do something to help us get beyond this agony.

    "We need to accept Leslie leaving us. And I believe we need to present a short message to Leslie telling her what she meant to each one of us. Put in writing what you'd say to her if she were standing in front of you right now. And add one of her delightful capers."

   "Oh no," a lady cried out. "I don't think I can do that."

   Looking around, Heather noticed a change in the demeanor of the retirees sitting at the table. Most had tears in their eyes. One of the men had a handkerchief, wiping his nose. Such sadness was displayed; this scene depicted pure wretchedness in all of these seniors. What could have caused such a debilitating reaction? Who was Leslie?

COMMING IN EARLY 2020 -  TOMORROW, I'LL CLAIM THE GOOD LIFE

louisewrightseniorauthor.com

The information and material on this website is provided for informational purposes only. Nothing contained on this website constitutes advice or an opinion on any subject matter or on any specific set of facts or circumstances. The Directories are password protected for the privacy of the Members.

Transmissions made over the Internet may not always be confidential and any transmissions you make to members over this website are made at your own risk.

The Members make no guarantees or representations about the timeliness or accuracy of the information contained on this website for any purpose. In addition the Members make no guarantee of the accuracy of any information available through any of the links you may find on this website; they are provided only as a convenience to the viewer.

Inquiries, questions & comments related to content or information on this website should be directed to the webmaster, Ray Wright at ray@raywrights.net or by phone to 804.360.4692.

availible in paperback or kindle